Shop manager Germaine Edwards 'shot at close range'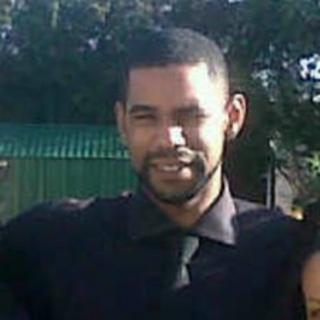 A supermarket manager was forced into the boot of his car and shot at close range, a court has heard.
Germaine Edwards, 28, of Bilborough, was found shot in the abdomen in Fairnley Road, in Nottingham, in November. He died later in hospital.
Nottingham Crown Court was told on Monday defendant Damien Fogo, of no fixed abode, demanded £10,000 from Mr Edwards before shooting him.
Mr Fogo, 32, denies murder, attempted robbery and a firearms offence.
The court heard Mr Edwards was due to receive a £10,000 redundancy payment following the closure of the Co-op store in St Ann's where he worked.
He finished his last day of work on Saturday 17 November, met a friend and picked up Mr Fogo in his car.
Loud bang
Prosecuting, Timothy Barnes QC said, at one point Mr Fogo left the car and when he got back in minutes later, he had a gun.
He then pushed Mr Edwards into the boot of the car and told his friend to drive.
The court heard Mr Fogo hit Mr Edwards with the gun, saying "I need money and I want £10,000".
When they reached Broxtowe Police Station the friend ran out of the car, into the station, shouting for help.
Mr Barnes said Mr Fogo drove off and minutes later, witnesses heard a loud bang.
It was, the prosecution said, a gunshot being fired at close range at Mr Edwards.
He stumbled out of the car saying: "Help me, I've been shot." He later died in hospital.
The trial continues.