Woman, 97, has life savings stolen in Nottinghamshire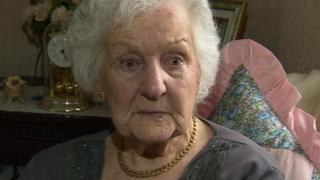 A 97-year-old woman from Nottinghamshire has spoken of her devastation after her life savings were stolen.
Maud Rodgers was one of four elderly people targeted by burglars on the evening of 4 May.
She returned from a night out to find her home had been ransacked and £15,000 and an engraved pendant were missing.
Det Con Jason Jenkins from Nottinghamshire Police asked anyone with information to come forward.
Mrs Rodgers said: "As soon as I opened my living room door I noticed my curtains had been closed.
"I never close them, so I knew somebody had been in the house."
'I've got nothing'
Mrs Rodgers' life savings of £15,000, which she was saving for her family, had gone.
""It took me 79 years to save that money," she said. "I was determined my children and grandchildren were going to have something from me.
"When I realised it had gone, I was devastated. I've got nothing."
Mrs Rodgers also discovered some of her jewellery was missing, including gold rings, earrings, chains and a rectangular pendant given to her by her late husband, Roy, on their 50th wedding anniversary.
The pendant was inscribed: "Roy to Maud. 50 happy years".
Other missing items include a gold necklace with coloured stones and a diamante clown. Police think the thieves may try to sell them to gold shops.
Mrs Rodgers added: "When I go to bed now, I'm up most of the night. At my age I don't need this sort of thing."
Det Con Jenkins said the burglaries, in north Nottinghamshire, appeared to be an isolated series committed by the same people.
"We think the burglaries have taken place between 10pm and 11.30pm, all in properties within five minutes' walk from each other," he said.
"It would appear the victims were targeted because they were elderly.
"Somebody knows who's responsible for these burglaries. I'm hoping this appeal tugs on somebody's heartstrings and that pendant makes its way back to us."