Southwell boy to keep 'Civil War' cannonball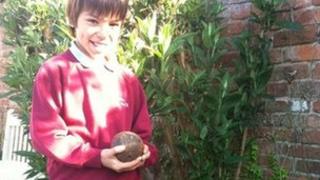 A 10-year-old boy from Nottinghamshire who found a cannonball believed to be from the Civil War plans to keep the artefact.
Jack Sinclair, from Southwell, made the discovery after his father had dug up a tree root in the family's back garden.
The youngster, who wants to be an archaeologist, said he was "speechless and excited" by the find.
It is thought to be the first find of its type in the town that has links to the 17th Century conflict.
King Charles I spent his last night of freedom at The King's Head, now the Saracen's Head, in Southwell in May 1646.
This came after the Royalists surrendered nearby Newark following a siege.
Charles was handed over to the Parliamentarians after his stay in Southwell and later executed for treason.
Cannonballs have been found in Newark, about eight miles away, where battles raged and the castle was attacked.
The artefact, which weighs about 9 lb (4 kg) and is made of iron, was taken to the Resource Centre in Newark, where historic items are kept, and was comparable with other Civil War cannonballs.
"I thought it was a stone," said Jack. "When I took the mud off I realised it was a cannonball."
His father Andrew Sinclair said: "It's ridiculously heavy and definitely not a shot-put.
"It was the same weight, same size as Civil War cannon balls we saw at the Resource Centre."
Newark and Sherwood District Council is set to create the National Civil War Centre in Newark in 2014.
The £5.4m project is being supported with funding from the Heritage Lottery Fund and the county council.
However, Jack Sinclair has no intention of giving up the piece of history.