Missing James Brodie: Murder case against Dean Betton dropped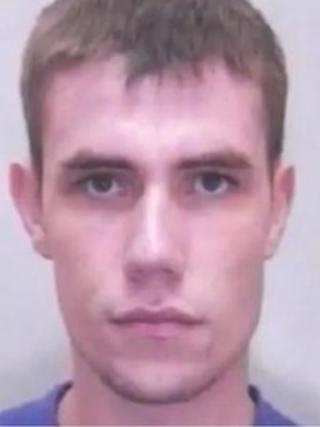 The case against a man charged with killing a man wanted for the murder of Nottinghamshire jeweller Marian Bates has been dropped.
Dean Betton, 32, of Raleigh Street, Nottingham, was charged with the murder of 19-year-old James Brodie.
Mr Brodie is believed to have gone missing after Mrs Bates was shot dead during a robbery at the Time Centre in Arnold in 2003.
The case was discontinued at Nottingham Crown Court on Tuesday.
Betton was convicted of conspiring to rob the jewellers in March 2005 and was sentenced to 13 years in prison.
A Nottinghamshire Police spokesman said: "A decision has been made for the murder charge against Dean Betton to be dropped.
"It comes following discussions with the Crown Prosecution Service (CPS)."
The CPS confirmed it had offered no further evidence at the hearing.
Farm searches
Two men aged 31 and 34 arrested on suspicion of Mr Brodie's murder remain on bail pending further inquiries.
In February, Nottinghamshire Police searched land at Maize Farm in East Heckington, Lincolnshire, as part of the inquiry into Mr Brodie's disappearance.
A canal in Lincolnshire was also searched by police in March.
Officers said a number of samples taken had been sent off for further scientific tests.
Mr Brodie has not made any contact with family or friends in almost 10 years.