Coco Lounge stab victim 'lucky to be alive'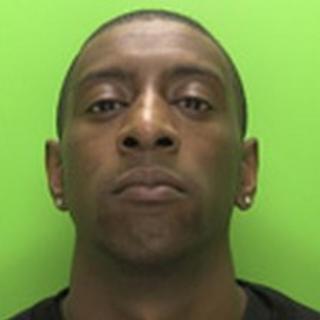 Detectives say the victim of a stabbing at a Nottingham bar last year is "lucky to be alive".
The 25-year-old man was stabbed twice outside Coco Lounge bar in George Street at 01:00 BST on 16 December.
Nathaniel Smart of Robin Hood Chase, St Ann's, Nottingham was sentenced to five years for the attack.
Det Con Jon Kerry said: "I share the victim's relief that this violent man is behind bars and can't hurt anyone else."
Smart, aged 30, admitted twice plunging a pocket pen knife into the victim's abdomen, piercing an artery through his naval.
While the two men did not appear to know each other, detectives do not believe it was a random attack.
The incident was captured on CCTV and Smart was arrested later that day.
He pleaded guilty to grievous bodily harm at Nottingham Crown Court on Friday.
'Bloodied attack'
Mr Kerry of Nottinghamshire Police said they are still unsure why Smart was carrying a knife that night.
"This was not long before Christmas, the bar was full and there were a lot of witnesses to what was quite a vicious and bloodied attack," he said.
"The victim spent Christmas with 40 staples in his stomach and has a daily reminder in the form of nasty scars that will be with him for the rest of his life.
"His injuries were caused by a relatively short knife, but due to the sheer force used and location it caused significant harm.
"The victim is very lucky to be alive and will be permanently affected by the injuries."