Kevin Kennedy death: Peter Healy 'made coded threats'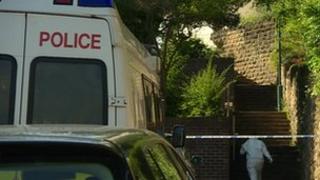 A Nottingham man sent coded threats about a love rival who was later found dismembered, a court has heard.
The armless and headless corpse of Kevin Kennedy was found in a shallow grave on 8 August at the top of Rossington Road in Sneinton.
Nottingham Crown Court was told Peter Healy wrote he would "take out" Mr Kennedy when released from prison.
Mr Healy, 51, of Lord Nelson Street and his former girlfriend Tara Swift, 40, of West Street, Leicester, deny murder.
Prosecutor Timothy Spencer QC told the court Mr Healy was jealous Ms Swift had begun a relationship with Mr Kennedy.
Second charge
In a letter to his son's partner, which was read out in court by Mr Spencer, Healy said: "Have I got things to sort? Pass a message on for me. Tell that Kevin I know what's what and I can't wait until I see him and take him for a drink.
"I'll be back to take him out," he wrote later on in the letter.
Mr Spencer told the jury: "The last thing he would want to do is take him for a drink. This was code. I'll be back to take him out doesn't mean take him out for a drink. It has another connotation."
The prosecution said Mr Healy killed Mr Kennedy, 50, less than two weeks after being released from jail on 4 July.
Ms Swift claimed to have been a "helpless bystander" to a fight between the pair but was seen with Mr Healy on CCTV in the days after the attack and did not go to the authorities, the court was told.
Ms Swift and Mr Healy also deny a second charge of perverting the course of justice between July 17 and August 8 last year by "concealing or disposing" of the body parts of Mr Kennedy.
The missing body parts have never been recovered.
The trial continues.