Victoria and Broadmarsh shopping centre progress promised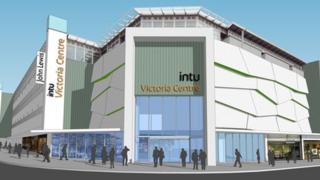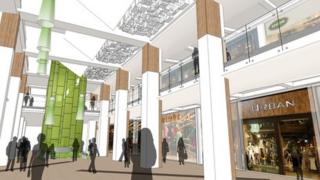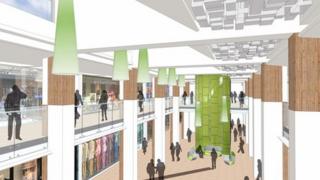 Plans to renovate a Nottingham shopping centre have been revealed.
The £36m refurbishment of the Victoria Centre will include two new entrances, glass roofs and improved walkways and toilets.
The designs are the first phase of £390m plans to redevelop both the Victoria Centre and the Broadmarsh Centre by owners Intu.
Intu has also promised to meet city council demands to prioritise the development of the Broadmarsh.
'Need of investment'
The Broadmarsh was the subject of a development bid by previous owners Westfield in 2007, which ultimately stalled.
Many of the units in the Broadmarsh are now vacant.
Janine Bone who manages the Victoria Centre said talks with the city council about the development of the Broadmarsh were continuing.
She said Intu, previously known as Capital Shopping Centres, planned to complete the refurbishment of the Victoria Centre, followed by the redevelopment of the Broadmarsh. The company would then seek to extend the Victoria Centre.
"The Victoria Centre is 40 years old and is in need of investment," she said.
"The development of the Broadmarsh is complicated and requires more consultation, but we have always been very clear we would prioritise the major redevelopment of the Broadmarsh ahead of the Victoria Centre extension."
She said the plans for the renovations to the Victoria Centre's Lower Parliament Street entrance would come before the council in April and those for the clock tower entrance in July.
She said Intu hoped both plans would be approved by September.
The refurbishments would be completed in phases, with an estimated end date of spring 2015.