Nottinghamshire Police cuts 'causing officer stress'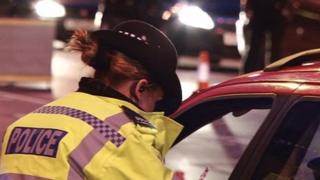 Cuts to front-line police officers in Nottinghamshire have resulted in more officers taking time off work with stress, the Police Federation says.
Figures obtained from the force by the BBC show 3,806 days were lost to stress in 2012, compared to 2,023 in 2008.
The federation, which represents rank and file officers, said remaining officers were under increased pressure.
The force said it was looking at the factors causing stress at work and offering a "wide range" of support.
The force is currently trying to save £40m by 2015 and has shed nearly 200 police officer posts since 2008.
Stress guidance
Phil Matthews, head of the Nottinghamshire branch of the Police Federation, said: "I think it is just a symptom of the increased pressure officers are now facing being under.
"We have lost a significant number of front-line officers from the force and all that work has had to be soaked up by the remaining officers."
A spokesman for the force said it was taking the situation seriously, adding: "In terms of work being done we are developing a 'stress working group' to look at the factors affecting people who are suffering from stress.
"We have developed guidance on how to deal with stress and liaise with occupational health to understand any emerging trends.
"There is a wide range of support available for officers and staff provided through line managers, occupational health, HR, the Police Federation and other police associations."