Spiked traps on Bilsthorpe path prompt warning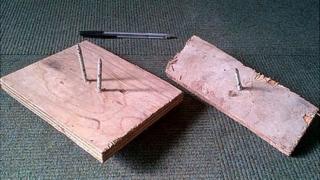 Metal-spiked traps have been discovered on a country path in Nottinghamshire.
The homemade objects, made of wooden boards with screws embedded, were found on Deerdale Lane near Bilsthorpe, near an area known locally as the desert.
Police, who were called to the area on Tuesday, said they had been placed in sand and covered in leaves.
Officers said they may have been intended to deter off-road bikes but could also have caused "considerable injury" to horses or walkers.
The area of undeveloped land close to the A614 has been popular with illegal bikers for years.
It has also been the focus of complaints from nearby residents, prompting a series of police crackdowns.