'Nightingale Quarter' homes plan for Derby hospital site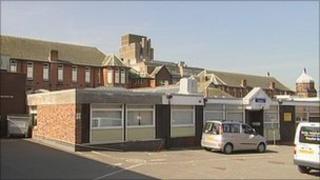 A hospital famous for its association with Florence Nightingale is to be redeveloped as housing.
Plans for the 300 rental homes have been released by developers UK Regeneration.
The company will buy the eight-acre site from Derby Hospitals NHS Trust and plans to rename it the Nightingale Quarter.
The famous nurse helped develop the hospital during the 19th Century and is commemorated by a statue on the site.
UK Regeneration said it would keep the statue, plus another statue of Queen Victoria, who visited the hospital.
It will also incorporate two towers from the old hospital into the development.
The scheme, which will also include shops and restaurants, has been called an "urban village" by the developer. UK Regeneration said the rented homes would be for people who did not want or could not afford a mortgage.
Outline permission for the scheme was approved by the city council in 2012, along with an application to put a supermarket on the site.
Slight concerns
Alan Grimadell, vice chairman of the Derby Civic Society, said: "It's an interesting development.
"I welcome the fact they are going to keep the statues and the towers and call it the Florence Nightingale Quarter.
"I have slight concerns over the supermarket. The centre of Derby struggled when Westfield was built. It took business away. Now the whole of that area is being developed in a big way."
The site was home to the Derbyshire General Infirmary, which became the Derbyshire Royal Infirmary.
Many of the buildings have been empty since the development of the Royal Derby Hospital in 2009.
Derek Conway, of Derby Hospitals NHS Trust, said: "We have land and buildings we no longer use. We put forward a development that would serve Derby for the future."
He said money from the sale of the land would be reinvested in health services.