Mansfield Town claim goalkeeper was 'hit by brick'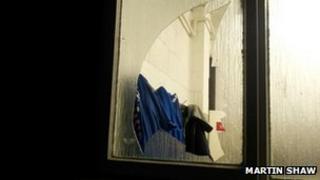 Mansfield Town claim their goalkeeper, Alan Marriott, was hit on the back of the head by a brick which was thrown through the team's dressing room window.
The alleged incident happened following the Stags' 2-1 win at Woking on Wednesday evening.
However, Woking said the window was broken by a fan with his hand and that no brick was thrown.
Mansfield Town said it has now contacted the police over the incident.
The club's chief executive Carolyn Radford, said: "We can confirm that we have now referred this matter to Surrey Police.
"This behaviour is totally unacceptable and has no place in our sport. Woking have apologised to us for this unfortunate incident and we thank them for their co-operation on this matter."
'Mindless idiots'
Mrs Radford had earlier said the club would not be pursuing a criminal investigation.
Surrey Police confirmed it is investigating the claims.
Mr Marriott was not thought to be seriously hurt following the alleged incident.
Mansfield boss Paul Cox was sitting next to the player when it happened.
He said: "A brick came through the window and hit Alan Marriott on the back of the head."
Mr Cox went to the window to see who the culprit was and saw a group of men, who spat at him and threw items such as coins.
Mr Cox and some team members then ran out of the dressing room to confront the men.
'No excuse whatsoever'
"It was a few mindless idiots," he said. "The people who do these sort of things need banning from the game.
"There has to be something done about it, otherwise a footballer, or somebody associated with football, is going to get seriously injured."
Mike Smith, the Woking chairman, apologised for the incident.
"There is just no excuse whatsoever," he said. "It did come out of the blue but we were able to deal with it quickly."
He added the club had also referred the matter to the police, and a season ticket holder has been informed he is no longer welcome at the club.
The Football Association is investigating the episode.