Work resumes on Nottingham's unfinished Southreef complex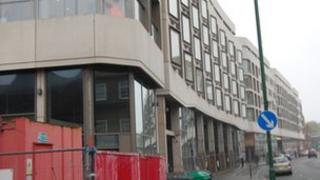 Work has re-started on a £36m tower complex in Nottingham city centre, almost six years after the project first began.
Stretching along a section of Canal Street, the Southreef complex contains a combination of offices, apartments and retail space.
The project stalled when the original owners ran into financial trouble and the development was sold.
New owner Nottingham One said it would be finished by the end of the year.
Colin Wright, of Nottingham One, confirmed contractors were in place and work resumed on Wednesday morning.
He said: "The main building, terrace and pavilion is on a 24-week programme and should be finished in August.
"The tower should be finished by the end of the year and we are trying to get the bridge over the canal completed as soon as possible."
He added the tower would be made up of apartments and not a hotel, as previously planned.