West Burton power station protesters leave camp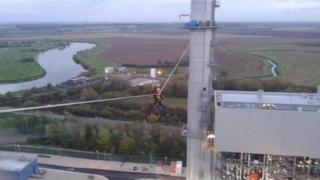 Eight protesters who camped at the top of two power station chimneys have been arrested after climbing down.
Members of No Dash For Gas have been occupying the West Burton plant, in Nottinghamshire, since Monday.
Four men were arrested on Friday morning and three women and one man were arrested in the afternoon.
A man and a woman were arrested after climbing down on Thursday, and police believe just six protesters remain.
The group is opposed to the gas-powered plant on environmental grounds but its owners said the protest was dangerous.
Protest to continue
A spokesperson for Nottinghamshire Police said their officers were continuing to have contact with those who remained on the site and aimed to bring the protest to a peaceful conclusion "as swiftly as possible".
The activists said they were reducing their numbers to preserve food supplies so the protest could go on longer.
Five women were arrested on suspicion of aggravated trespass shortly after the protesters entered the site on Monday.
The others have all been arrested on suspicion of the same offence.
The protesters installed a makeshift zip-line between the 90m (300ft) chimneys to transport supplies between the two camps and to enable two people to travel along it to join members in the other camp.
'Endangering lives'
The group said it wanted to see the government focus on renewable energy rather than building gas power stations.
EDF Energy, which is building the station, said however, it was committed to a low-carbon future.
One of the protesters, Danny Chivers, said they would remain at the power station until they felt their point had been made in the "strongest possible way".
Graeme Bellingham, from EDF Energy, said the protesters' actions were endangering their own lives and those of members of the emergency services.