Nottingham teachers to hold strike vote over school term changes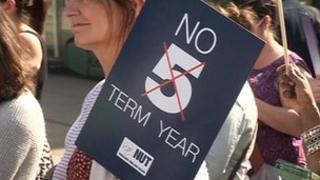 Nottingham teachers could go on strike over proposed plans to change school terms, a National Union of Teachers spokesman said.
Teachers are "very angry" over proposals for a shorter summer term and longer October break, NUT spokesman Susi Artis said.
She said a strike vote would take place in the next few weeks.
Nottingham City Councillor David Mellen said he was disappointed by the union response.
Learning 'impaired'
"We have involved them (NUT) and all the unions in open dialogue to address issues that were raised as part of our consultation," he said.
The NUT staged three one-day strikes over the issue in March and April.
The proposed Nottingham model would have a three-term year with a five-week summer break, two-week break in October and a fixed two-week spring break.
A final decision will be made on the proposals on 20 November.
Mrs Artis said: "Teachers don't often strike - but this is something they feel really, really strongly about.
"We will be completely out of synch with every other authority in the country.
"It would mean longer spells at school... and that means children get very tired."
But Mr Mellen said: "It will make a significant difference to learning… and also to families who during the summer holidays do not get the support of free school meals or breakfast clubs at schools."
He said children's learning was "impaired" by longer summer breaks.
The council has already modified earlier proposals which included a five-term school year.