Sherwood Forest Trust board's future 'local matter'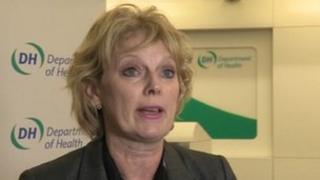 Health minister and Nottinghamshire MP Anna Soubry has said it would be wrong for her to "interfere" in the future of a hospital trust's board.
Last week MP Mark Spencer called for Sherwood Forest Hospitals Trust's board to stand down after clinical errors in dozens of breast cancer tests at King's Mill in Sutton-in-Ashfield emerged.
Ms Soubry said any decision was up to the board and had to be a local matter.
The hospital trust's board said a full review would take place.
Interim board chairman Chris Mellor said he would "take swift action" to improve the trust's performance following his appointment last week.
Hospital watchdog Monitor found concerns over "faulty tissues tests" from patients at King's Mill Hospital earlier this month.
Seventy-nine women are being recalled with regard to the results of breast tissue biopsies between 2004 and 2010.
Broxtowe MP Ms Soubry said: "It's absolutely dreadful to think that a number of women over the period of six years didn't receive the right treatment (although) they got the right diagnosis."
Mr Spencer wants an inquiry in addition to that ordered by Monitor, which is being conducted by the Care Quality Commission.
Sherwood Forest Trust, which was awarded Foundation Trust status in 2007, serves a population of 418,000 people across Nottinghamshire as well as parts of Derbyshire and Lincolnshire.
The trust runs King's Mill Hospital in Sutton-in-Ashfield and Newark Hospital.