Teenager was only person to help Nottingham rape victim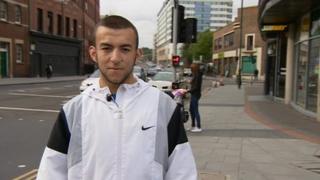 When Elliot Mannix saw a rape victim pleading for help in Nottingham he knew he had to go to her aid despite other passers-by ignoring her.
Witnessing her distress brought back his own memories of when, as a seven-year-old, he had a burning bottle of petrol thrown at him, setting him alight.
Now 18, Mr Mannix was the only one to help the 17-year-old rape victim as she shouted for help, while naked from the waist down, in the early hours of 25 March.
However, he was shocked to find that the nearby branch of the Salvation Army he took her to also refused to help her.
A judge this week said Mr Mannix should receive a £500 reward for his actions and a commendation from the court.
Speaking the day after the young woman's attacker was jailed for 10 years, he believes his own ordeal inspired him to help her.
"There were people just walking past her, like they couldn't hear her," he said.
"I could hear her from miles away just shouting 'Help, help, help'.
"Everyone was just ignoring her and that's why I walked down.
'They are scum'
"There was five people who walked straight past her and just blanked her.
"Obviously they are scum, aren't they?"
Twenty-eight-year-old Mawawe Karam was jailed by a judge at Nottingham Crown Court.
Karam, originally from Sudan, pleaded guilty on Wednesday, shortly after indecently exposing himself in court.
After raping the teenager Karam stole her mobile phone, leaving her with no way of contacting her anxious mother.
It is not clear how long she had been pleading for help before Mr Mannix found her at 04:45 BST, but police said the attack happened at about 03:10 BST.
'Horrific crime'
Judge Michael Stokes QC said: "I get the impression some people had ignored her and passed by her, thinking she was on something or drunk, and they just ignored her."
Prosecutor Dawn Pritchard told the court it would have been "absolutely clear" to a man working in the Salvation Army building the 17-year-old was semi-naked.
"They refused to help and turned the intercom off," said Ms Pritchard.
Mr Mannix said: "The man that was in reception looked at me and I said 'Can you ring someone for this girl? Can you ring the police or a taxi or something? She just wants to go home'.
"I says 'Basically I've just found her, she's been raped'. He says 'Oh we can't help you. All we do is help males'.
"I was like 'What do you mean? All she needs is the police or a taxi or something, or even ring her mum'."
Mr Mannix then took the teenager to nearby flats where the police attended.
In response to the court claims, a Salvation Army spokesperson said: "We are appalled at this horrific crime.
"We have no record of the allegation made in court but will be investigating this further. We would never knowingly turn away a person in need and are concerned about the allegation made."