Murder: Joint Enterprise portrays 'hostile' Nottingham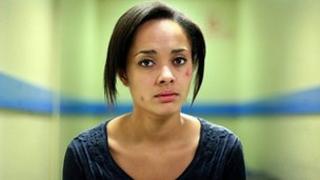 A new TV drama has given Nottingham a central, but unflattering, role.
Murder: Joint Enterprise, broadcast on the BBC, is directed by Birger Larsen, who helped create the Danish hit TV series The Killing.
It centres on the death of a teenage girl after a night out and the makers said they chose Nottingham because of its violent reputation.
City officials said crime had fallen in the city and they trusted the public to discern fact from fiction.
In the drama, witnesses and suspects speak directly to the camera to tell of pub fights, absent mothers and bad neighbourhoods.
'Exotic city'
From the opening credits, where a road sign is freeze-framed like a mugshot, it is clear the city is not going to be portrayed in a good light.
But this is taken to extremes several times when glowing night-time cityscapes slowly turn blood red.
In interviews, Mr Larsen has described the city's "hostile vibe".
Talking to the BBC, Mr Larsen admitted he knew nothing of Nottingham before filming began.
"It's a very exotic city but I had never been there before," he said.
"In the script it said this murder is in this city, so we went to investigate this city, see what we can do with it."
The programme's writer, Rob Jones, said he chose it because of its reputation as the "murder capital of the UK".
This reputation is made explicit when one of the characters, hard-nut Stefan, expresses his regret for visiting.
"My mum warned me about Nottingham. Always grief, she said, Nottingham."
Gritty edge
But the city authorities have said they are not too concerned about the impression the show might leave.
Alex Norris, city councillor with responsibility for community safety, explained: "Wollaton Hall has recently been seen on cinema screens as Wayne Manor.
"I don't think people will any more come here expecting to see Batman than they will thinking Nottingham is any worse than other cities for crime.
"We are aiming to promote this city as a creative place to work - you can't ask for that and then expect to agree with everything which is produced here."
Stephen Badham, senior production liaison manager at Creative England, said reputations were important.
"You don't want to sell a city as being a difficult place to film in and somewhere that is hard to do the things you need to do," he said.
"But if it has a certain element to it, an edge or gritty urban element that looks good on screen, then they can be used to its benefit."
Murder: Joint Enterprise was broadcast on BBC2 at 22:00 BST on 26 August.