Rebecca Adlington's bronze medal cheered in Mansfield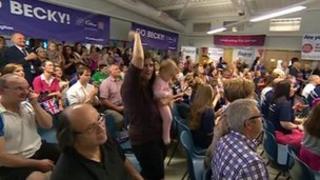 Supporters from Rebecca Adlington's Nottinghamshire home town said she had "done them proud" in winning her second bronze medal at London 2012.
The 23-year-old, from Mansfield, had been favourite to take gold in the 800m freestyle final but the race was won by 15-year-old US swimmer Katie Ledecky.
About 200 well-wishers gathered in the town's Oak Tree Leisure Centre to watch their hero on a big screen.
After the race, they said it was clear she had tried her best.
The third-place finish followed her bronze in Sunday's 400m freestyle final and comes four years since she won two gold medals in the same races at the Beijing games.
While her supporters were disappointed at not seeing her take gold, they paid tribute to Adlington's Olympic career.
Linda Bennett, her first swimming teacher, said: "We'd be lying if we said we didn't want her to win gold and I'm sure Rebecca wanted to win gold.
"But she's already proved that she's world class and to win a bronze and to be third best in the world and the best in Britain, well that's enough for us.
"I think she's an inspiration for Mansfield and the young generation."
Back at the Aquatic Centre, Adlington said: "I have been in four Olympic finals and got four medals so that's nothing to be ashamed of.
"I was disappointed with the time. I was fast all year, I don't know why I wasn't today.
"Maybe it was the expectation, the environment, maybe it got to me a little bit. It's something I don't know."