Rebecca Adlington inspires young swimmers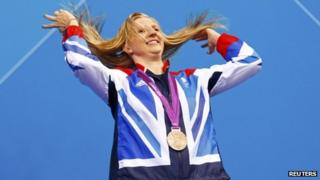 In a leisure centre in Mansfield dozens of friends and well-wishers had assembled to watch Olympic "icon" Rebecca Adlington.
Shouts of "C'mon Becky" and "Let's go Becky" rang out as Adlington swam in the 400m freestyle final 150 miles away at the Aquatics centre in London.
Watching on a big screen at the Oak Tree centre was her former coach Ian Negus, who worked with her when she was a teenager.
And after she battled back from sixth to claim a bronze medal, he said: "It's a fantastic result for her. She'll be happy with that."
It was Adlington's third Olympic medal after the two golds, for 400m freestyle and 800m freestyle, that she won in 2008 in Beijing.
"She's an inspiration to me. A real icon," said Chloe Holden, 10, who was watching with her mother and grandmother.
"I swim twice a day and want to be just like her."
Adlington learned to swim in the nearby Sherwood Baths in the Nottinghamshire town.
Among those watching were members of her former swimming teams - Sherwood Swimming Club and the Nova Development Squad, which selects the top swimmers from local teams.
Owen Ottaway, 11, who swims with the current Nova Development Team and came with his family to watch Adlington, said: "She was fantastic. It's a brilliant result for her. She inspires me and makes me think if she can do it so can I.
"I'd love to take part in the Olympics one day just like her."
Earlier in the day Adlington had tweeted : "Just sneaked into tonight's final in 8th place! Not expecting anything tonight, all I can do is my best :-) thank you for all the support x"
But after the race she tweeted: "Ahhhhhhhh bronze medal!!! Can't believe it! SOOO happy its unreal! The crowd was incredible! THANK YOU to everyone, your support is amazing!"
Back in Mansfield Mr Negus, who is head coach at Sherwood Swimming Club and worked with Adlington from the age of nine to 14, said: "I remember her being a very dedicated swimmer. Always listening to everything I told her and putting it into practice.
"She was always very nervous on the starting block when competing, though.
"I think she sets a fine example to the current Sherwood team and shows them what they can be capable of."