Nottingham five-term school year plan could be shelved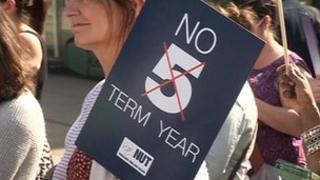 A plan to introduce a five-term year at schools in Nottingham could be abandoned following a consultation between the council and teaching staff.
The city council decided on the switch last year but the plan was met with opposition from unions, including the NUT which held a series of strikes.
The authority has now suggested an alternative plan with three terms and a slightly shorter summer break.
It said several unions were already supportive of the revised proposal.
The switch to a five-term school year with a shorter summer holiday had been put forward by the council as a way of improving attainment at city schools.
'Workforce unhappy'
But teaching unions, and some parents, had viewed the proposed change as disruptive.
The latest plan would see the summer break shortened by a week with a two-week half-term break in the autumn.
David Mellen, from Nottingham City Council, said: "In the last few months we've done a consultation with the workforce and, as a result of that, an alternative pattern has come forward which was submitted by the Governors' Association.
"Because there was a number of reasons that the workforce were unhappy with the five-term plan, we've said that if there were other patterns coming forward which delivered a shorter summer break, which we think is the most important thing, we would be willing to look at those.
"We have secured agreement with some of the trade unions on the alternative pattern and we are continuing to work and seek agreement with the remainder, with the possibility that our decision of last year could be changed."
The NUT said it would look at the new proposal and hoped the process was a step closer to a potential agreement.
If all the unions agree to the revised plan, a public consultation will take place in September.