Nottingham detective Trevor Gray denies raping woman at her home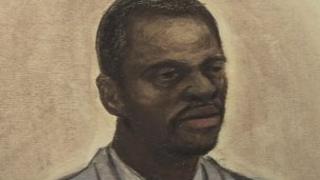 A Nottinghamshire policeman accused of raping a woman in her home has told a court he broke a door chain to get in because he was concerned about her.
Det Sgt Trevor Gray, 47, said the woman invited him to stay after he entered her Nottingham home and consented to sex, in July 2011.
Mr Gray, of Watnall, near Nottingham, denies rape, attempted rape and sexual assault against the woman.
He has been suspended from work during his trial at Derby Crown Court.
'Door ajar'
The woman has told the court she had met twice socially with Mr Gray while he was off-duty and had only invited him inside "through courtesy" before asking to leave 15 minutes later.
The woman, 43, said she then to bed but woke up later to find Mr Gray on top of her.
She said he had raped her and she had later found the broken door chain when he left in the morning.
Mr Gray, of Stannier Way, Watnall, told the court he had returned to her house after drinks in Nottingham, but had left to get a taxi.
When he could not get a taxi, he texted her but she did not reply, the court heard.
He returned to her house where the door was ajar and the light on.
"I fell back into my mode as a trained police officer and I decided I would enter to save a life effectively," Mr Gray told the court.
He said he found the woman sitting up in bed and she invited him to stay, and he left on good terms in the morning.
During cross-examination by the prosecution, Mr Gray was asked if he had put anything in the woman's drink when they were at a Nottingham bar, but he explained a barman had served them the drinks.
The trial continues.