MP John Mann's wife sent dead bird in post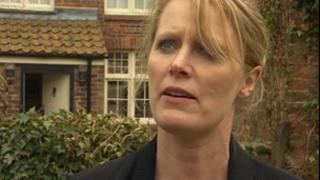 The wife of a Nottinghamshire MP has been sent a dead bird in the post.
Jo White, wife of Bassetlaw MP John Mann, said she found the package among a pile of post when returning from a meeting on Wednesday evening.
Ms White, a newly-elected councillor at Bassetlaw District Council, said the discovery at their home near Retford left her feeling "really sick".
Nottinghamshire Police confirmed they were investigating the incident and inquiries were on-going.
Ms White said: "I came home after the council's AGM and found a pile of post waiting for me.
"Whilst there was an unpleasant smell I thought nothing of it until I began opening the last package when the smell became so overwhelming I retched and felt really sick."
Ms White, who was elected to the Worksop East ward at this month's local elections, said she had handed the carcass over to the police.
"They took away the bird along with the package for DNA investigation - I really hope they find whoever did this."
John Mann, who has represented the Bassetlaw constituency for Labour since 2001, said: "It's appalling that a new councillor should have to deal with this in their first week and I hope that the perpetrator is quickly found and given the maximum punishment possible."