Nottingham study to improve lifespan of pothole repairs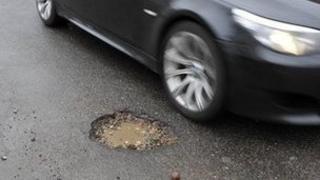 The University of Nottingham is taking part in a test which could lead to pothole repairs lasting nearly four times longer.
Students are working with the county council to try out a new way of mixing materials used to mend damaged roads.
The technique is more expensive, but is thought to increase the life of a repaired pothole from an average of four years to 15.
Findings from the test could be incorporated into council policy.
The study will see the team making repairs to the Marlborough Road area of Woodthorpe.
Thermal imaging cameras will be used to monitor temperature changes within the mix and the way it dries and bonds to the existing road surface.
Andy Warrington, Nottinghamshire County Council's service director for highways, said: "The work involves looking to see if we can improve the quality of repairs by using different materials and processes.
"There are several different ways of repairing and patching potholes available to us and this is just one of many which we could use in the future."
The work is part of a larger six-month study into potholes which also includes students from Nottingham Trent University.