East Midlands Ambulance Service misses response target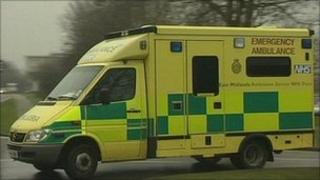 East Midlands Ambulance Service (EMAS) has missed an emergency response target but improved its performance from a month earlier.
The service responded to 93% of emergency calls within 19 minutes in March - an improvement from 90.3% in February.
The national target for ambulance trusts is to respond to 95% of calls within 19 minutes.
An EMAS spokesman said meeting the target "has been a challenge".
Liaison officers
EMAS was the worst of 12 regional ambulance services in its 19-minute response category, with the best service (London) performing at a 98.6% response rate.
EMAS spokesman Peter Ripley said the figures so far this year were "promising".
He said the service did meet its target by responding to 77.3% of calls in March within eight minutes - better than its February figure of 72.6% - and one of the best in England.
"Commissioners have supported this improvement in various ways including the provision of additional funding for initiatives such as the Hospital Ambulance Liaison Officers working in A&E departments," Mr Ripley said.
"These officers help to minimise delays in hospital staff being able to accept a clinical handover from our ambulance crews, which in turn allows the crew to return to the ambulance to be available to respond to the next 999 call."
He added that "in some cases, life-saving treatment is already being provided by ambulance staff that arrive on scene in a fast-response vehicle."
"We are putting our patients first and are working on our plans to become the best ambulance service possible and they will allow us to continue to improve our performance and the care we provide."