Witness 'saw Nottingham police station petrol bombed'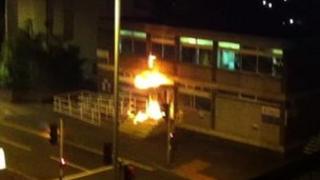 A witness in the trial of seven men accused of rioting in Nottingham said he saw a police station being petrol bombed.
Canning Circus police station was attacked on 9 August during disturbances in the city.
Taxi driver Sulakhan Lakhanpal told Nottingham Crown Court he saw a group of 30 to 50 people, some with lit petrol bombs made from bottles.
The defendants all deny charges of riot and violent disorder.
The jury heard how the group got within two or three metres of Mr Lakhanpal's taxi and at that point he reversed and turned back down Derby Road.
From further afield he said he could see Canning Circus police station being attacked with petrol bombs, the court heard.
He told the jury what he witnessed was "dangerous and scary" and "a shocking thing".
Slashed tyres
Another witness to the disturbances in Nottingham was Nazma Begum, who lives in Holden Street.
She told the court she saw a group of lads smashing up cars and standing on them, as she watched from a first floor window.
Her father Manu Miah, who also lives at the same address, told the jury he saw the group wearing hoods and attacking cars.
Mr Miah said the family's BMW was among the cars damaged, with slashed tyres and a smashed windscreen.
He told the court he did not go outside because he was scared.
The defendants are Lance Francis, 25, of no fixed abode, Callum Joseph Powell, 20, from Top Valley, Shaundrie Riccardo Robinson, 22, from Hyson Green, Gregory Hensley Coleman, 20, from Broxtowe, and Roxwell Yeboah, 34, from Radford.
Two youths, aged 16 and 17, cannot be named for legal reasons.
Ten other men have admitted playing a part in a violent disturbance on 9 August, the jury was told.
The trial continues.