Nottingham teachers strike over change to term dates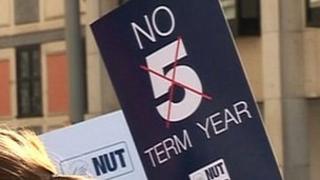 Teachers in Nottingham are holding a second one-day strike over proposed changes to school terms.
Members of the National Union of Teachers (NUT) are unhappy at plans to switch to a five-term academic year with a shorter summer break.
Nottingham City Council said the move would boost attainment, but some teachers view the change as disruptive.
The council said 15 schools had fully closed, with another 36 partially closed.
Parents have been advised to check the council's website and keep in touch with their child's school for the latest developments.
Protesters gathered outside the city council offices at Loxley House at 11:00 BST.
The council said the five-term system - with a shorter summer holiday but fortnight breaks in May and October - would help pace pupils' education and ease childcare issues in the summer.
But the NUT said there was no evidence it would help pupils and claimed it could cause problems with county schools being on a different system.
Earlier talks to avert the strike ended without agreement.