QMC in bid for on site air ambulance landing pad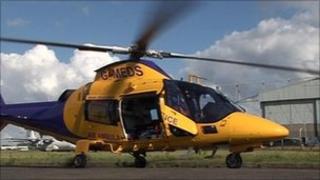 Bosses at Nottingham's Queen's Medical Centre (QMC) are drawing up plans for a helipad within the hospital's grounds.
At present, air ambulances bringing patients to the hospital have to land a mile away at a site just off University Boulevard.
Roger Linnell, manager of the Lincolnshire and Nottinghamshire air ambulance, said vital minutes could be shaved off transfer times to the QMC.
It was recently revealed the QMC was becoming a major trauma centre.
Mr Linnell said: "We could be shaving off five to 10 minutes off every journey taking a patient to the QMC.
"Within the next few years we will start taking more patients there and it will make a difference."
Major traumas
As part of the regional major trauma unit plans, East Midlands Ambulance Service crews will be trained to bring the most seriously injured patients to Nottingham rather than to their local emergency department.
At the moment, about 300 major trauma patients are treated in Nottingham each year.
This is likely to increase to about 500 over the next 12 months, with patients initially being taken from Sherwood Forest Hospitals, and then Chesterfield and Derby.
Patients from Lincolnshire will come in the second year, followed by Leicestershire.
This means the number of major trauma patients treated in Nottingham is expected rise to 900 by 2015.
They will have 24/7 access to specialist teams of clinicians, intensive care and brain surgery.