Grant for rare Grizzled Skipper butterfly Nottinghamshire habitats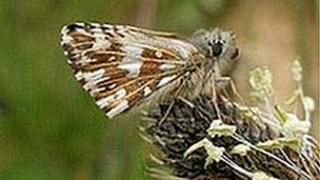 Habitats in Nottinghamshire which support one of Britain's rarest butterflies have been boosted with extra funding.
The county is thought to be the most northern location in the UK for the Grizzled Skipper, a protected species.
Eighteen sites, mostly former quarries and old rail lines, will be managed by the county council so vital grassland does not become overgrown.
The £66,000 grant will also fund a survey of the butterfly population.
Findings from a long-term study released last week estimate almost three quarters of British butterfly species have decreased in population over the past decade.
Scrub clearance
The project, which is being delivered in partnership with the East Midlands branch of Butterfly Conservation, will start in the New Year and the county council is also looking for volunteers to help with the programme.
Nick Crouch, the county council's nature conservation leader, said: "The Grizzled Skipper is one of the rarest species that we have in Nottinghamshire, so it is great news that we have secured funding to help conserve this charismatic little butterfly.
"We will be holding community events next year so that local people can learn more about the Grizzled Skipper, and we will also be looking for people to join volunteer work parties to carry out scrub clearance and to survey sites."