Nottingham police return arrest film to Lewis Stainer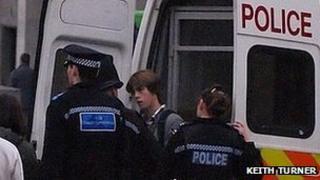 Police have agreed to return video footage of an arrest they seized from a student journalist.
Officers took the tape as Lewis Stainer, 20, covered the Occupy Nottingham protest in the Old Market Square, on 21 November.
Mr Stainer said he was "shocked" at the action and complained to the National Union of Journalists (NUJ) after he was given an edited copy of his footage.
Nottinghamshire Police said securing evidence of crime was legal.
The original tape is due to be handed back to Mr Stainer at the Central Police Station in Nottingham.
'Missing scenes'
Mr Stainer was filming the protest as part of a project for his course at New College Nottingham when a person staying at the camp was arrested.
Mr Stainer said: "The officer grabbed my arm and took me to the back of a police van and took my camera tape off me, and about three officers surrounded me.
"It was intimidating. I was quite shocked really."
He was later given a copy of the footage, which he said was useless as it was missing scenes, had no sound and was in a format which could not be edited.
The NUJ, which wrote to the force on behalf of Mr Stainer, said the incident illustrates national concerns about officers "harassing" photographers and video journalists.
Ongoing case
Nottinghamshire Police said section 19 of the Police and Criminal Evidence Act meant officers can seize an item if they believe it contains evidence in relation to an offence.
A total of four people were arrested at the time on suspicion of theft and receiving stolen goods, and two have been charged, the force said.
"The original tape is to be returned to its owner, who has been invited to collect it. The local NUJ branch has also been informed," a police spokesman said.
"It will be for the court to ultimately decide whether, without it, there is now sufficient evidence to secure a conviction in the theft case for which the tape was requested on 21 November."