Bare knuckle fighter Bendigo gets plaque in Beeston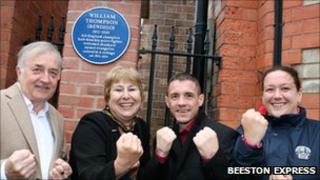 A boxer known as the "Muhammad Ali of his day" has been honoured with a blue plaque at his former Nottingham home.
The bare knuckle fighter William Abednego Thompson, better known as Bendigo, was born 200 years ago.
Bendigo fought 20 prize fights and was famous throughout England for his unique boxing technique.
Historian Alan Dance said: "He was a sporting legend. He bought a wit and cunning to boxing which had never been seen before."
The blue plaque has been fitted near to the site of Bendigo's cottage in Wollaton Road, Beeston.
The name Bendigo came from his middle name Abednego and from the way he bent his body in the ring.
He was born in Nottingham in 1811.
After a stint in the workhouse he started fighting at the age of 18 to earn money to support his family.
Bendigo quickly gained a reputation for the entertaining way in which he boxed.
Bare knuckle fighting was illegal but Bendigo's fights attracted thousands of people.
Mr Dance said: "He used to duck and weave and taunt his opponents.
"He was a great character, well known throughout Nottingham, England and indeed throughout the world."
One of Bendigo's most famous fights was with Hucknall fighter Ben Caunt. It lasted for about two hours and included 93 rounds.
Bendigo died aged 68 at his cottage in Beeston. His funeral procession was said to have been a mile long.
Bendigo also has a city named after him in Australia.
The plaque is part of a scheme to recognise historical figures in the Broxtowe area of Nottingham.
The organisations involved include the Beeston and District Local History Society and Beeston Civic Society.