Nottingham aims to restore Maid Marian lake cruiser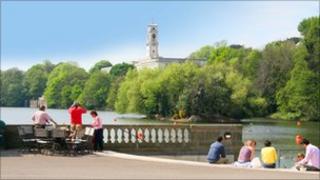 Lake cruises will be reinstated at a Nottingham park if the scheme is given lottery money.
The city council is asking for £3.4m to restore Highfields Park near the University of Nottingham.
Part of the money would be used to restore the Maid Marian pleasure boat which was used for lake cruises.
The Heritage Lottery Fund bid would also pay for a park ranger, repairs to historic buildings and new footpaths and a car park.
The cruiser, which is currently in storage, was last used about 10 years ago and first sailed on the lake in the 1920s.
A council spokesman said the lake was too full of silt to allow the boat to be used at present.
City councillor David Trimble said: "We have prioritised investment in our parks and open spaces as they provide a range of free or cheap things to do for families which is critical in this tough economic climate."
The city council hope to submit its bid by February 2012.