Nottingham Riots: Disorder cost police force £1.2m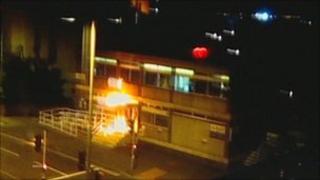 Two nights of disorder in Nottingham cost more than £1m in extra policing, Nottinghamshire Police said.
A gang of about 30 people damaged cars in the St Ann's area on 8 August. Five police stations were attacked across the city on the following night.
The force said increased police presence, bringing in staff from other areas and repairs to police stations cost an estimated £1.2m.
A total of 117 arrests have been made with 75 charged over the disturbances.
Police stations in The Meadows, Bulwell and St Ann's were targeted, while Canning Circus station was set alight after fire bombs were thrown at the building on 9 August.
Mobs of up to 50 people also damaged cars, pubs and shops in areas including Basford, Mapperley and Radford.
High-visibility patrols continued into the weekend in Nottingham and other parts of the county.
Deputy Prime Minister Nick Clegg visited Canning Circus on Friday and praised the actions of officers during the disorder.