London 2012 National Watersports Centre boost hopes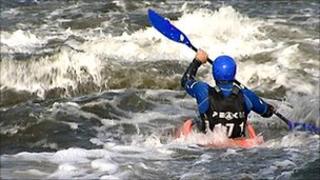 The London 2012 Olympics will give the National Watersports Centre a boost, said the venue's spokesperson.
The facility at Holme Pierrepont is home to the Olympic sports of kayaking, sailing, rafting and canoeing.
It has been chosen as a slalom and flatwater canoeing training camp and has already been used by a host of international teams.
It is one of nine possible pre-Games training venues in Nottinghamshire.
Sharon Clay, business manager at the National Watersports Centre, said: "The use of the facilities by international competitors is important for the centre because that is what we're here for.
"It raises the profile of the centre and creates a buzz about the place."
Both the Russian slalom team and the Chinese rowing team used the centre for a six-week training camp in 2010.
The Spanish, Italian, French, Czech and Slovakian canoe slalom teams have trained at the site and the GB slalom team will use it as a training base ahead of the Games.
China and Japan have shown an interest in using the centre in the coming months and Ms Clay is confident more will follow.
Funding issues
The Holme Pierrepont watersports facility was recognised as the best in the country prior to the opening of the Lee Valley White Water Centre and was the base for the GB canoeists and kayakers until 2010.
The new rafting centre, near Waltham Cross in Hertfordshire, will host the canoe slalom events during the 2012 Olympics.
But Ms Clay said the National Watersports Centre could still gain from the Games and that there was room for both facilities to prosper.
"It's not all about the money from these athletes," she said.
The 270-acre plot at Holme Pierrepont is owned by Nottinghamshire County Council.
The running of the centre is currently financed by the council, funding from Sport England and from revenue from the centre's business.
Although Sport England announced it was withdrawing funding in 2007 the money will stretch beyond 2012, said Ms Clay.
"I hope the Olympics will raise awareness of the centre, get as many people training here as possible and it will carry on being an important part of England's sporting community," she said.
As part of the countdown to London 2012, the National Watersports Centre will be hosting a free day of activities including sailing, kayaking, water skiing, archery and canoeing for eight to 16-year-olds on 28 July.
"We want to push the Olympic sports that we offer - kayaking, sailing, rafting and canoeing," said Ms Clay.