Friends' 6,000 mile tuk tuk charity challenge to India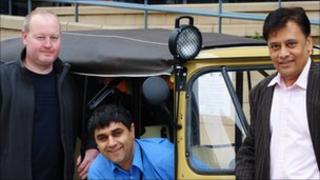 Three men from Nottingham are preparing to drive 6,000 miles (9,656km) to India in a tuk tuk.
Sanjay Sharma, Kelham Osbourne and Mukesh Kashyap will travel through 14 countries in the Indian auto-rickshaw.
They are hoping to raise up to £20,000 for cancer charities and children living in slums in Mumbai.
The three men have named their challenge Slow Train to India and spent more than a year planning the route.
The tuk tuk has a top speed of 45 mph and is not permitted on motorways.
"There are lots of dangers, it's not a holiday," said Mr Sharma.
"We're in a small vehicle, not going very fast and we're restricted to small roads.
"We're going through rural areas, desert areas, extreme heat. There's a risk of breakdown, even a risk of robbery.
"We've planned for everything, as best as you can for these sort of things."
The men start their journey on 14 July.
They are hoping to drive 220 miles (354km) per day, for five weeks, staying at campsites along the way.
They will travel through France, Belgium, Germany, Austria, Hungary, Romania, Bulgaria, Turkey, Syria, Jordan, Saudi Arabia and the United Arab Emirates before getting a ferry to Mumbai, in India.