DH Lawrence letter and manuscripts up for auction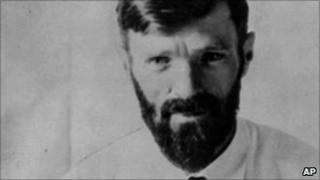 Rare manuscripts by the Nottinghamshire writer DH Lawrence are going up for auction.
They include two short stories plus a letter Lawrence wrote to a friend, Henry Savage, in which he expresses regret at not having had any children.
They are being sold by Oxfordshire collector Roy Davids, who hopes for more than £18,500 for the items.
Mr Davids, who is selling 500 other lots, said the stories were subtly different from published versions.
The Lovely Lady
"There are some words which he changes," said the collector.
"In one of the stories the word he puts in the manuscript is wiggling but in the printed version it's wriggling.
"That's one of the interesting things about manuscripts, they can often preserve part of the creative process."
The hand-written short stories are Delilah and Mr Bircumshaw, which was published in 1940 after Lawrence's death, and Laura Philippine, which was written in 1927.
Complete manuscripts of works by DH Lawrence are extremely rare.
The last one that appeared at auction was a manuscript for The Lovely Lady, which was sold at Sotherby's in Los Angeles in 1970.
The figure the book raised is unknown.
Roy Davids' items are being auctioned by Bonhams in London on March 29.