Paul and Sandra Dunham lose US extradition case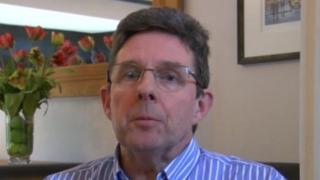 A British couple accused of fraud and money-laundering have lost their High Court fight against extradition to the United States.
Paul and Sandra Dunham, from Northampton, claim extradition is "disproportionate" in what amounts to an "employment-related dispute".
But Mr Justice Simon said the charges facing the pair were not "trivial".
Mr Dunham said they had been "totally let down" by the British justice system and their lives had been "shattered".
The pair "vehemently reject" allegations relating to expenses claims in the US.
Health 'suffered severely'
Mr Dunham, 58, was chief executive and president of Pace, a US company manufacturing soldering irons for the electronics industry.
He was indicted on 13 counts of fraud and money-laundering by a grand jury in Greenbelt, Maryland, in December 2011.
Mrs Dunham, 57, is accused of aiding and abetting him.
The court heard they were in the US for a decade from 1999 to 2009.
Ben Watson, representing the couple, said: "They lost their jobs, and therefore the stake they had in the company in which they had worked for many years and their assets in the US, including their residential home.
"They were declared bankrupt in this country, they lost their good standing and meaningful employment opportunities and their mental and physical health has suffered severely too.
"But what tips the balance, we say, is what awaits them in the US."
He claimed there was no "realistic prospect of bail" and the remand facility they were likely to be sent to would be "wholly inadequate" to care for the mental health of Mr Dunham, who had suffered a series of mini-strokes.
The court was asked to allow their claim under Article 8 of the Human Rights Act, which relates to private and family life.
'Totally let down'
But Mr Justice Simon said that to describe the charges as "only an expenses fraud" did not address the gravity and extent of the alleged criminality over a number of years.
He added: "In some cases there is compelling evidence of an acute or chronic psychiatric illness which cannot or will not be treated."
But the court was told Mr Dunham's condition did not approach the threshold beyond which extradition would be deemed unjust or oppressive.
Mrs Dunham's moderate to severe depression was not as serious as her husband's condition, the court heard.
Mr Justice Simon said he was not persuaded that the public interest in extradition was outweighed by an "exceptionally severe" interference with their Article 8 rights.
Later, Mr Dunham said: "We've been totally let down. Neither our government nor courts can see the injustice of sending innocent British citizens thousands of miles away to be jailed pre-trial without having examined a shred of evidence in the case.
"Without the Supreme Court or Europe's intervention, we're yesterday's people. Our lives are shattered.
"The cruelty of this injustice is too much to bear. Unless someone intervenes at the 11th hour, we've lost our wealth, health, liberty and, likely, our lives."