Storm-hit Raunds College to reopen after half-term break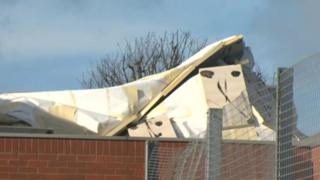 A school in Northamptonshire where the roof was damaged by high winds and storms plans to open normally after half-term ends next Monday.
The roof was blown off the sports hall at Manor School and Sports College in Raunds, Northamptonshire.
Principal Linda Brooks said she was shocked to see the damaged roof hanging off but it had now been made safe.
Scaffolding has been erected so engineers could take a closer look and the school will reopen on Monday.
"Students will kept away from the damaged area and experts have said the bitumen cover will keep the area dry while it is being repaired.," she said.