Rushden Lakes decision delayed as minister considers plans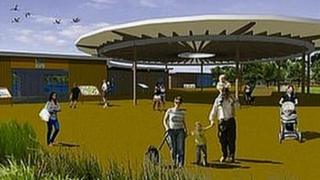 A government decision on plans for a £50m shopping development in Northamptonshire has been delayed.
East Northants Council, which supports the scheme, was told a decision on Rushden Lakes will be made later.
The retail development planned for the former Skew Bridge Country Club site is intended to regenerate the town.
Northampton Borough Council said it was disappointed that Communities Secretary Eric Pickles is still considering the application.
A department for Communities and Local Government spokesman said: "The secretary of state is not in a position to reach a decision on this application and the case remains under careful consideration."
East Northants has been advised that a new date is still be be confirmed.
Seeking clarification
The council had expected a decision in December but were told it would be postponed until mid-February, now this date has been put back too.
Councils in nearby towns have said the new development would adversely affect their town centre shops.
Owners of the Grosvenor Centre in Northampton also expressed objections to the development as it could adversely affect their expansion plans.
Northampton Borough Council leader David Mackintosh said: "We are disappointed that the future of Rushden Lakes will not be determined this week.
"The final decision will affect how we plan the future of our town, and the steps we will take to continue to attract jobs and investment.
"We will be seeking clarification on when a decision will be made so that we can communicate this to our partners and the business community."
The Labour MP for Corby, Andy Sawford, said there was no reason why the decision on Rushden Lakes had been delayed.
He said he knew the minister was preoccupied with floods but he should be more than capable of coping with both and should not keep people in the dark.
However, Wellingborough MP Peter Bone said it was right that the decision was put on hold while more urgent matters are dealt with.