Model projected on Northampton church picture 'doctored'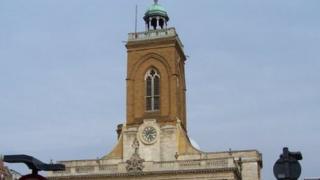 A priest who was the victim of a publicity stunt hoax has said he feels "rather used" by a casino and its publicity agency.
An image of a semi-naked glamour model projected on to the front of All Saints' Church in Northampton was sent to the media to publicise an event.
It had been "doctored" on a computer and the casino later apologised.
Father David McConkey, priest at All Saints', said: "It was distasteful and I feel rather badly used."
He said he had spent all day answering questions from the press and felt it was a waste of time for a busy priest.
"If this was just a publicity stunt then it was appalling.
"It was really nothing to do with me and I was dragged into it. This is not what I came to Northampton to do.
"It was a misjudgement and a bad taste event."
Making amends
The publicity company issued an apology which said: "Naturally we are sorry if anyone was offended by the picture circulated on social media.
"However, Aspers can assure the Church of England and anyone concerned that no picture was ever projected on to All Saints Church.
"The picture is entirely down to computer wizardry."
Managing director of the publicity company that issued the picture, Leigh Strathearn, said the casino did not intend to offend.
He said he would be meeting with casino bosses because there were a lot of people to make amends to.
"The priest at All Saints' would be first - the number one."
Correction: An earlier version of this story said the picture had been projected on to the church.