Utah shooting: Northampton relatives 'devastated'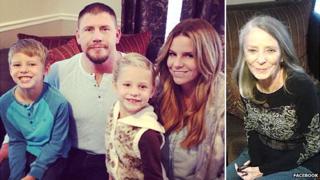 The family of two Northampton women who were found dead in the US state of Utah along with two children and a man say they are "devastated" at the deaths.
Joshua Boren, 34, a police officer in Lindon City, is thought to have shot his wife Kelly and mother-in-law Marie King, who had both moved to America.
It is reported Mr Boren also killed his two young children at the family home before turning the gun on himself.
Jeanette Malpas, Marie King's sister, said: "They were all truly loved".
Police in Lindon, Utah, asked their colleagues in the neighbouring town of Spanish Fork to check on Mr Boren, a patrol officer, late last Thursday as he had not arrived for his night shift, the Reuters news agency reported.
Bodies found
Officers who looked through a window into the front room of the unlocked two-story house, 50 miles (80 km) south of Salt Lake City, saw blood and spent ammunition.
They then discovered the bodies of Mr Boren, Kelly Boren, 32, seven-year-old Joshua, five-year-old Haley and Mrs Boren's mother Marie King.
Ms King, 55, had been a pupil at Northampton School for Girls and lived in the town before moving to America to live with her daughter and her family.
In a statement, Ms Malpas told the BBC: "We as a family are devastated.
"We are a close-knit family even though we all lived far away from them.
"They were all truly loved and we will carry this with us for all time."
A Spanish Fork Police spokesman said officers were not looking for anyone else in connection with the deaths.
Over the weekend, a vigil was held in the city of Layton to remember the family, with candles being lit and balloons and Chinese lanterns released.
A post-mortem examination is due to take place later.
Ms Malpas said a short memorial would take place on Wednesday evening at the Queen Eleanor pub in Wootton, south of Northampton, to coincide with the planned time of the family's funeral in America.