Northampton women killed in Utah police officer family shooting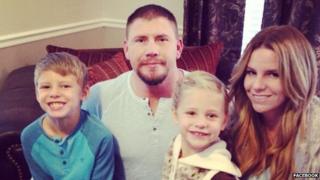 Five members of the same family, including two women who came from Northampton, have been found shot dead in the US state of Utah.
Joshua Boren, 34, a police officer in Lindon City, is thought to have killed his wife Kelly and mother-in-law Marie King, who used to live in Northampton.
It is reported Mr Boren also killed his two young children at the family home before turning the gun on himself.
Lt Matt Johnson of Spanish Fork Police told Reuters no suicide note was found.
'Beautiful sister'
Police in Lindon, Utah, asked their colleagues in the neighbouring town of Spanish Fork to check on Mr Boren, a patrol officer, late on Thursday as he had not arrived for his night shift, the Reuters news agency reported.
Officers who looked through a window into the front room of the unlocked two-story house, 50 miles (80 km) south of Salt Lake City, saw blood and spent ammunition.
They discovered the bodies of Mr Boren, Kelly Boren, 32, seven-year-old Joshua, five-year-old Haley and Mrs Boren's mother Marie King.
Ms King, 55, had been a pupil at Northampton School for Girls and lived in the town before moving to America to live with her daughter and her family.
Ms King's sister Jeanette Malpass, from Northampton, posted on Facebook: "Cannot get my head around this and will never understand why someone has to take away lives like this.
"My beautiful sister Marie, her daughter Kelly and Kelly's children... may you all rest in peace."
People living in the town of Spanish Fork have described the community as one which "takes cares of each other".
Nathalie Smith, a friend of Kelly Boren, said she could not believe what had happened.
"I pretty much said 'No way', I was in so much shock and just bawling. I just couldn't believe she was gone.
"Maybe she finally brought up she was ready to move on and he just wasn't going to have it."
The Lindon City page on Facebook said it was "saddened to learn of the tragic events" at the Spanish Fork home of Officer Joshua Boren.
Ch Cody Cullimore, of Lindon City Police, said: "Officer Boren was selected... from a field of over 70 highly qualified applicants and had performed admirably as a patrol officer. His conduct, behaviour and professionalism were exemplary.
"We are shocked and saddened by the events as they appear to have occurred."
He added they were working closely with the force in Spanish Fork to "investigate and hopefully come to an understanding of this tragic occurrence."
A police spokesman said officers were not looking for anyone else in connection with the deaths.