Northampton M1 lorry crash driver 'lucky'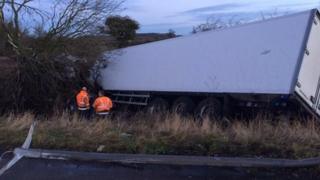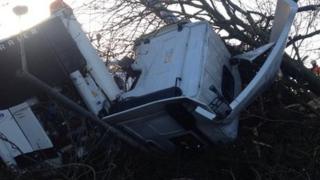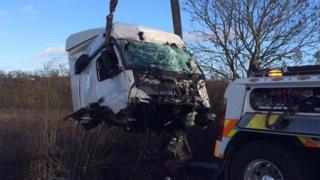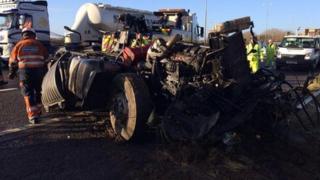 A lorry driver had a "very lucky" escape after he crashed through the central reservation of the M1 in Northamptonshire and into a ditch.
The accident happened near junction 16 northbound at about 06:15 GMT.
Lanes were closed in both directions for several hours for vehicle recovery and barrier repairs.
PC Dave Lee said the driver was "very lucky to walk away from this" with just minor injuries.
"Another day and the outcome could have been very different for the driver," he said.
Recovery of the lorry, which was fully-laden with televisions, was described as "challenging" by Mr Lee.
The lorry not only crashed through the central reservation, but clipped three lamp posts, exposing live electricity cables.
Mr Lee said a number of organisations worked together at the scene including the Environment Agency, which was dealing with a diesel spillage into a stream underneath the lorry.