Northampton Town's Sixfields Stadium plans approved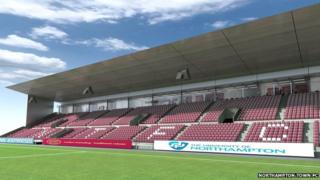 Plans to redevelop one of the stands at Northampton Town's Sixfields Stadium have been approved by Northampton Borough Council.
The scheme will be part-funded with a £12m loan from the borough council, including a directors' box and 10 corporate boxes.
The ground's capacity will increase from 7,653 to 10,000, once work on the East Stand is complete
"This is a momentous day," said club chairman David Cardoza.
The club also wants to improve its West Stand, with a new shop, bar and family areas and open a gym and conference suite.
'Important step'
Separate planning applications for a hotel, housing and retail facilities are expected to be submitted.
"Things are already moving forward quickly and it is possible that we will be building the roof and part of the structure of the new East Stand during the season and then finishing it off in the close season," Cardoza.
"We are working at a pace and the plan is to have the East Stand done by the start of next season. The hotel is going to take a little bit longer but hopefully we will be putting a planning application in for that in the next month or so."
Councillor David Mackintosh, leader of the council, said: "This planning application represents an important step in the expansion of Sixfields Stadium.
"Our sports clubs are an important part of life in our town and a significant benefit to the local economy."