Philippines typhoon: Imagination's Ashley Ingram records fundraiser in Northampton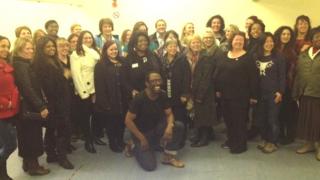 A 1980s pop star from Northampton is recording a charity song to help survivors of the typhoon which hit the Philippines, where he now lives.
Ashley Ingram, who was in soul/funk trio Imagination, lives in Manila and members of his household staff lost relatives in the disaster.
Ingram, 53, was in Northampton when Typhoon Haiyan struck and he has now written a song called Never Give Up.
He hopes to use multiple versions of the song to raise relief funds.
Ingram, who since Imagination's heyday has had his songs recorded by Mariah Carey and Des'ree, was visiting family in the UK.
He lives in the Philippines capital with his wife and two-year-old son.
"I was in Northampton staring at the television, so I automatically called my home in Manila to check that everyone was okay," he said.
"Members of my household had been affected by it and it was telling me I had to do something about it.
"Northamptonians came behind me like a shot and you realise that your hometown is always your home.
"I'm hoping the internet and social media will generate a buzz and we want to have a Christmas number one as well as generate more donations to established disaster relief charities."
Ingram has already recorded a choir of 10-year-olds at Caroline Chisholm School in Wootton and the 40-strong Royal & Derngate Community Choir.
One member of the community choir, Linda Faulkner, met Ingram for the first time since they had been in the same class at St Paul's primary school.
Janet Gordon, who manages the community choir, said: "It was quite humbling to do our little bit.
"We recorded a complete version of the song and he was re-writing the chorus during our session.
"He's getting choirs to do the same sort of thing around the world, so it'll be fantastic to see how the finished product turns out."