Ding murders trial: Anxiang Du 'threatened to kill wife'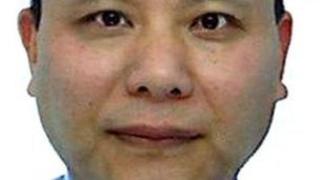 A businessman who stabbed to death four members of a family had pulled a knife on his wife months before and threatened to kill her, a jury heard.
Jifeng "Jeff" Ding, his wife, Ge "Helen" Chui, and daughters Xing, 18, and Alice, 12, were killed at their Northampton home in April 2011.
Anxiang Du denies four counts of murder but admits killing the Ding family.
His wife, in a statement read out to Northampton Crown Court, said she "did not recognise" her husband.
Anxiang Du was facing a bill for court costs of £88,000 after losing a 10-year legal battle with his former business partners Mr and Mrs Ding.
The prosecution said the family were "massacred" by him in a revenge attack the following day.
Fled to Morocco
Can Chen said the legal case against the Dings had "totally destroyed" her husband.
She said that in the months before the killings, Mr Du pulled a knife on her during an argument and told her: "If you continue I will kill you".
The court has heard he left a farewell note to his family on 29 April 2011, travelled by train to Northampton and caught a bus to Wootton, where he walked to the Ding house.
He stabbed Manchester Metropolitan University lecturer Mr Ding 23 times, Mrs Ding 13 times, Xing 11 times, and Alice four times.
Mr Du fled the UK and was found in Morocco in July 2012.
His defence is that that all four killings were manslaughter, due to loss of control or diminished responsibility.
The jury is expected to begin its deliberations on Tuesday.