Ding family murder accused Anxiang Du 'just went crazy'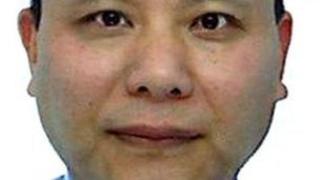 A man who killed a family of four told a British diplomat he "went crazy" when his former business partner "laughed in his face", a jury has heard.
Jifeng "Jeff" Ding, his wife, Ge "Helen" Chui, and daughters Xing, 18, and Alice, 12, were stabbed to death at their Northampton home in April 2011.
Anxiang Du, 54, of Witnell Road, Coventry, denies four counts of murder but admits killing the Ding family.
Northampton Crown Court has heard Mr Du would not be giving evidence.
The Dings were "massacred", according to the prosecution, on the afternoon of 29 April, the day of the wedding of the Duke and Duchess of Cambridge.
The prosecution claims they were the victims of a carefully planned revenge attack by businessman Mr Du, who had lost a 10-year legal battle with his former partners Mr and Mrs Ding.
He was facing a court costs bill of £88,000.
'Regretted leaving China'
His defence will claim all four killings were manslaughter due to loss of control or diminished responsibility.
He left the UK after the Dings' deaths and was already en route to Morocco when the bodies were found on 1 May.
Post-mortem examinations found that Mr Ding had been stabbed 23 times, Mrs Ding 13 times, Nancy had 11 stab wounds, and Alice had four.
Mr Du was arrested in Morocco in July 2012 and two days later had a 90-minute meeting with British Embassy official Leighton Williams, the court heard.
Mr Williams told the court via a Skype link that an emotional Mr Du said he had had a good life in China and regretted moving to Britain about 10 years ago.
'Stabbing something'
He told Mr Williams he had been in a dispute with a business partner and was awaiting payment.
"He said that he had gone round on that day just to try and sort the problems out," Mr Williams told the court.
"He said he was trying to resolve the problems.
"For him, he said that he had lost everything, he had been left with nothing, and this was a last-ditch attempt, if you like, to try and solve the problems."
Mr Williams went on: "All he told me was that his friend had just laughed in his face.
"He just said 'I just went crazy' and at that time he became very emotional and broke down again.
"At this time he made some gestures with his right hand clenched."
Asked if he understood what the movement meant, Mr Williams replied: "At the time all I can tell you is what I saw and I saw his right hand clenched and his right hand was moving up and down, as if he was stabbing something."
The trial is due to resume on Tuesday.