Northampton St Peter's Way gas holder demolition under way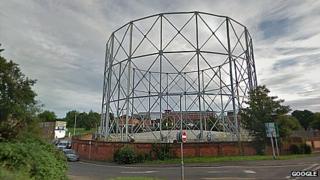 A landmark gas holder tower in Northampton is to disappear to make way for offices in an enterprise zone.
The massive structure on Tanner Street is part of the former works on St Peters Way that served Northampton until the 1960s, turning coal into gas.
Work has begun to dismantle the northern tower to make way for offices in the Waterside Enterprise Zone.
A second gas holder on the southern area of the site is scheduled for demolition before Christmas.
Dismantling work is due to be complete by late spring next year.
Northampton Borough Council says the structures were part of the town's industrial history, but serve no constructive purpose today.