Hewlett Construction to recruit 100 staff in Corby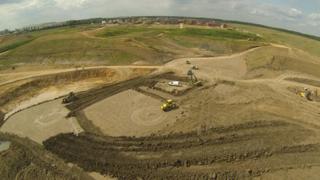 Up to 100 jobs will be created by a civil engineering firm which is opening a regional office in Northamptonshire.
Hewlett Construction has opened the base in Corby after picking up £19m-worth of contracts at the Priors Hall Park housing development.
The company hopes to recruit construction workers and administrative staff from the area and redeploy those currently working on the project.
It is building roads and installing drains on the site for developer Bela.
Hewlett Construction managing director Alan Cooper said the company expected to appoint the new staff over the next 12 months "provided the houses keep selling".
"We are going to be replacing a lot of the labour that we are currently using with local people," he said. "It's very busy and there are a lot of exciting things happening within the Corby area and further afield."
Barratt Homes has also employed the firm to work on its part of the site.
Prior's Hall Park, to the north-east of Corby, has planning permission for 5,100 houses.
The developers estimate that in 15 years it could have a population of 12,500.