Giuseppe Miceli: Northampton coin dealer death 'devastating'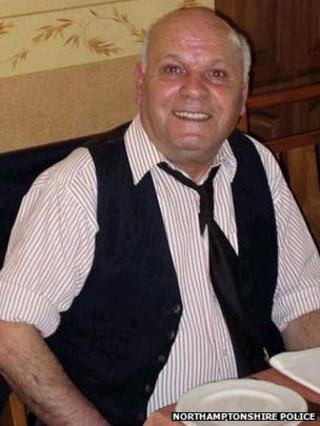 The brother of a 72-year-old coin dealer who was killed at home in Northamptonshire has said he is "devastated".
Giuseppe Miceli, who ran his trading business from his bungalow in Bants Lane, Duston, was found dead with head injuries on 13 July.
Brother Domenico Miceli, 68, said "Joe" was due to retire next year and was "a good man and didn't deserve this".
A 40-year-old man has been remanded in custody on suspicion of murder.
Mark Ellson, of no fixed address, is due to enter a plea at Birmingham Crown Court on 28 October.
Mr Miceli ran the Giuseppe Miceli Coin and Medal Centre and had been featured in specialist magazines.
'Big regret'
His brother said in a statement: "Joe was only a young man when he came on his own to this country.
"He taught himself English and managed to keep himself employed until he opened his own business.
"When he was in his late 20s he had an accident and lost part of his lower leg.
"He had to learn to walk again.
"It was around this time that he met a man who used to deal in coins and that's where his interest started.
"He didn't have any qualifications but he made a business out of his interest in coins and medals.
"We are devastated over what has happened. He was a good man and didn't deserve this.
"A big regret we all have is that next year he could have enjoyed his retirement, but he's no longer with us."
Police have appealed for witnesses to come forward.