Northampton hospital worker quizzed over indecent images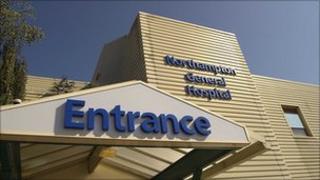 A worker at a Northamptonshire hospital has been arrested for allegedly distributing indecent images.
The 51-year-old man, believed to have worked at Northampton General Hospital for a number of years, was arrested after allegations by a member of the public within the past month.
The accused man is not believed to be a member of the medical or nursing staff.
A hospital spokesman confirmed the man had been suspended during a police investigation.
A police spokesman said: "A 51-year-old man has been arrested on suspicion of the possession and distribution of indecent images.
"He has been released on bail pending further inquiries."
Northampton General Hospital NHS Trust said: "We can confirm that a member of staff has been the subject of allegations which are being investigated by the police.
"The trust's processes were followed at the time of recruitment, which included a CRB [Criminal Records Bureau] check for that individual.
"This member of staff is suspended pending the completion of investigations."